Mamak Khadem: Say Her Name
Called "one of the wonders of world trance music" by the Los Angeles Times, singer Mamak Khadem is solidly established among the great performing artists of the Persian cultural diaspora and the world music scene. But her less-publicized work as a committed human rights activist and advocate for freedom of speech goes back with roots just as deep in her life as her music.
As Iranian leadership grew more conservative and extremist under Islamist rule, Mamak was among the youthful protestors in Tehran who manned the barricades for freedom. After moving to the United States for her education, she continued to use her voice and music in demonstrations against the Islamic Republic government and to perform in public on behalf of women's rights and social justice. In 2009 she organized the high-profile "Drums Sing For Iran," a free outdoor event at the Los Angeles County Museum of Art (LACMA).
It was her outspoken activism that made it too dangerous for her to return to Iran as her beloved father lived out his final days; he remained adamant that she stay away, fearful for what might happen if she again set foot on Iranian soil. Her album REMEMBRANCE, created during the pandemic and released earlier this year, is dedicated to his memory and to those of the many lives lost to illness and violence.
The recent death of 22-year-old Mahsa Amini at the hands of Iran's "morality police" has sparked moral outrage throughout the country and around the world. Women and girls have never been more compromised, and the free will of the Iranian people as they speak out in righteous protest is suffering crushing blows from the draconian authorities.
Say Her Name #Mahsa Amini is Mamak's powerfully moving response to the terrible events in her homeland and the plight of its female citizens. The title song -- honoring the memory of Mahsa Amini -- joins two songs from REMEMBRANCE with lyrics drawn from the verse of revered Persian poets who died for their beliefs: "Mina" (words by Saied Soltanpour, executed in 1981 for his free speech advocacy) and "Face to Face" (words by 19th century activist Fatemeh Baraghani, slain for her Bahai faith and for defiantly removing her head scarf in public).  The EP also features a live version of "Face to Face," recorded at Mamak's August 2022 concert at Berkeley's Freight & Salvage performance venue, book-ended with audio from recent massive protests around the globe. A stunning video has been created for the title song, deeply disturbing in its litany of injustice and misogyny as documented by filmed footage and still photos from Iran, spanning decades: https://youtu.be/SGqBYSpjE68
Six Degrees Records will release Say Her Name on November 1, 2022. All proceeds from sales and streaming of the EP go 100% to OMID Foundation for its work with at-risk women and girls in Iran.  Learn more about OMID at www.omidfoundation..com.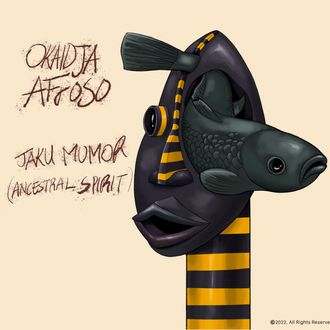 Okaidja Afroso: Jaku Mumor
A prelude to a collection of African Gãdangmé Music inspired by ancient African wisdom. Jàkú Mũmɔ - (pronounced Jaku Mumor) means Ancestral Spirit in the Gãdangmé language of South-eastern Ghana.
Ghanaian multi-instrumentalist, singer-songwriter and arranger Okaidja Afroso ushers in a fresh breeze of musical flavors from the shores of Ghana's Atlantic Gulf of Guinea, drawing from the ecological knowledge of the indigenous Gãdangmé Fishermen, the power of the nature-based rituals, and the connections that his ancestors had to the element, particularly the ocean.
In Jaku Mumor, Okaidja's distinctive musical style extends ancestral traditions and creates a contemporary African oral tradition, combining percussion, guitar, dance, and native language vocals. His artistry is grounded in traditional dance & rhythm with modern harmonies & updated lyrics. Jaku Mumor dives deeper into Okaidja's cultural roots by collaborating directly with the Fishermen to share the full artistry of their acapella singing and chants that awaken the spirit of the human soul.
On this album Okaidja collaborates with some of the best young talents Ghana has to offer, such as bassist Affreh Jr., Palm Wine guitarist George Spratz, master percussionist Israel Annoh, vocalist/dancer Jenny Flow, and trombonist Elikplim Amewode Kofi. They drew inspiration from Afro-Jazz, Afro-classical, Palm Wine, and ambient music - to produce a stunning record. This judicious  fusion of Ghanaian music with diverse cross-cultural influences features Okaidja's hypnotic arrangements, all sung in his native Gadangme language.