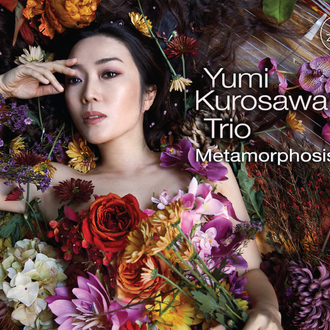 Yumi Kurosawa Trio: Metamorphosis
With her first album since 2015's Looking Up At The Sky, Yumi Kurosawa takes the iconic Japanese koto with her trio in bold new directions on Metamorphosis (March 23, 2023, ZOHO  Records). Yumi renews a 1300-year-old musical tradition, weaving traditional Japanese forms with threads of Afro-Latin, Jazz, Middle Eastern and Western neo-classical forms to create something entirely new.
Production by Arturo O'Farrill  and Kabir Sehgal helped Yumi fulfill the long-held goal that brought her to New York from Morioka-city, Japan in 2002. "I wanted to blend my music with other cultures," she says. "Over the past three to four years I knew I was almost there.   I don't mean to say that I'm completely satisfied—we keep on growing forever until we leave this world—but during this recording I felt that I might have reached what I had wanted twenty years ago."
Accompanying Yumi Kurosawa in this process of evolution and transformation are her trio, Naho Parrini on violin and Eric Phinney percussion and tabla, along with guest artists Carlos Maldonado on Latin percussion and Zac Zinger on alto saxophone and shakuhachi.
Recorded in October, 2022 at Power Station at Berklee NYC, Metamorphosis unfolds through a series of aural landscapes—from the percussive energy and busy streets of Yumi's adopted home in "Oneday Monday," through a series of South America snapshots stitched together on Yumi's koto ("Journey"), to the Japanese mountains and cherry blossom petals that inspired "Dawn." "Restless Daydream," commissioned by Smithsonian's Freer Gallery of Art for their 2019 exhibition of Japanese painter and calligrapher Tomioka Tessai, is emblematic of Yumi's work, often responding to other media, at America's most esteemed cultural institutions — which include performances at the Kennedy Center, Carnegie Hall, and the Apollo Theater (as well as the support of Chamber Music America's Artistic Project program, funded through the generosity of The Howard Gilman Foundation).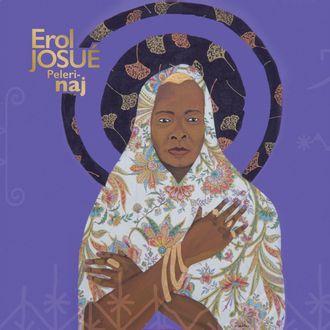 Erol Josué: Pèlerinaj
"If humankind could live by the principles of voodoo, of community and tolerance and sharing, we could go so far."
So says Erol Josué, singer, dancer, and one of Haiti's most vital and beloved artists. Josué invokes the spirits known as Iwa to invite healing and tolerance as he explores his country's uneasy journey# – and his own – in his sophomore album, Pèlerinaj (Pilgrimage), available March 25, 2023 on Village Hut Records.
Produced primarily by New York City-based Charles Czarnacki, its 18 tracks blend sacred chants and traditional rhythms like dogo, noki, fla voudoun with funk, jazz, rock and club-friendly electronic music.
Pèlerinaj – Pilgrimage in Haitian Creole – tells the story of Josué's own pilgrimage. Ordained at 17 as a priest of voudoun – voodoo, the centuries-old African diasporic religion – Erol soon became part of Haitian diaspora. Over two decades living in Paris, New York and Miami, Josué founded or was integral to a dazzling array of music projects and dance ensembles. The "electro-voudou" sound he developed in the mid-aughts New York club scene with DJ Val Jeanty led to his first album, Régléman, in 2007. A 2009 voodoo documentary, followed the cataclysmic 2010 earthquake, brought Josué back to his native country, completing his pilgrimage. 
As Director of Haiti's National Bureau of Ethnology, a position he has held since 2012, Josué continues to introduce Haitian voodoo culture to universities and institutions across the United States. On Pèlerinaj he sings – in French and Creole – not only of his own spiritual and political journey, but of Haiti's.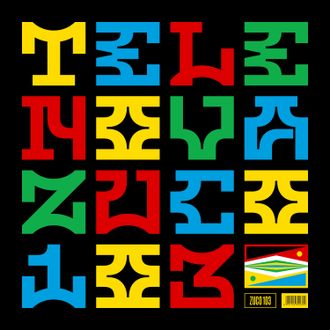 Zuco 103: Telenova
Amsterdam's ambassadors of Brazilectro return with their ninth studio album Telenova on Six Degrees Records.
After 24 years at the forefront of world jazz dance fusion, creating new sounds and styles as they go, singer Lilian Vieira, keyboard player Stefan Schmid, and drummer Stefan Kruger have arrived at their most mature and personal album to date.
Telenova was produced during the pandemic, and in many ways you can hear the processes that the album went through. With health taking center-stage and society pressing the pause button, hitting musical reset seemed like the natural option. The trio spent lockdown re-sampling some of their choicest musical ideas, reworking melodies and rhythms to really bring out the funky elements. That also meant stripping arrangements back, getting more personal, inviting listeners in. Reflecting the reduced social interactions during lockdown, the album took shape with this smaller, more intimate feel - like sitting round a campfire telling stories.
By the time the three of them could meet up in the studio again, the tracks had marinated until every element felt just right. In this respect, Telenova feels like it's loaded with songs - beautifully crafted grooves and chord progressions that also give Lilian's vocal lines space to stretch out. Even with the more electronic-sounding tracks, there's always the feel of those jazzy changes bubbling away underneath.
As always, Zuco 103 presents a glorious mixture of musical styles. Telenova floats between low-slung beats, uptempo funk, and afro cuban rhythms with ease, while Lilian's phrasing brings everything together with typical Brazilian flavor. The result is a vibrant fusion of global funk and dance styles that sounds timeless - both classic and forward-looking at the same time. It's a mixture they've perfected over 20 years of improvising and playing live together, taking musical risks and wandering off the beaten track. This love of adventure is at the heart of Zuco's natural chemistry on stage and in the studio, and what's kept their music crackling with energy for so long.
The 13 tracks on this album simply reflect who Zuco 103 are and what they do - spending their lives playing music together. In this sense, Telenova really is like a soap opera. Come and tune into the latest episode in the life of a band at the height of its powers.
Debashish Bhattacharya: The Sound of the Soul
Blossoming at the nexus of tradition and innovation, where soul and technique feed into one another in pursuit of an ecstatic oneness, the music of Debashish Bhattacharya has astonished and moved listeners since he first unveiled his unprecedented concept of Hindustani slide guitar in the late 1970s.
Best known to Western listeners as part of McLaughlin's Remember Shakti band (as heard on the 2001 live album Remember Shakti – Saturday Night in Bombay), Bhattacharya's latest album The Sound of the Soul (January 24, 2023) gives listeners an opportunity to experience his soulful virtuosity at length, with his 24-string chaturangui (a six-string hollow-neck lap-steel with the addition of three sets of strings: two drone strings, two rhythm strings, and 14 resonating strings) accompanied only by a percussionist. The sparse setting allows for careful examination of Bhattacharya's awe-inspiring technique, whether essaying gracefully static alap-like stillness or surging through thrilling up-tempo passages that showcase the jaw-dropping clarity and precision of his playing.
"Debashish is the master of the slide guitar. He has no equal." - John McLaughlin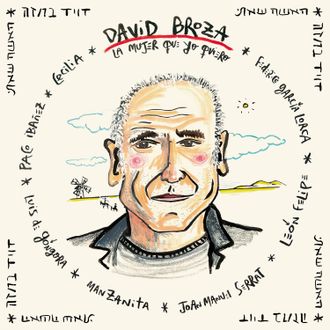 David Broza: La Mujer Que Yo Quiero
La Mujer Que Yo Quiero: the Spanish version of David Broza's epic album Ha'Isha She'Iti, released 40 years ago, and the best-selling album in the history of Israel's record industry. The original album was an homage to Spanish popular music in the late 70's and early 80's. The new album, La Mujer  Que Yo Quiero, brings the music back to its roots, with the songs performed in Spanish as they were originally written.
40 years ago, the songs of Ha'Isha She'Iti were meticulously translated into Hebrew by the great Israeli poet Jonathan Geffen, with a fluency that made them seem like they were originally written in Hebrew – so much so that few people remember the songs originated in Spain. During the past few years, David Broza played the songs, mixing the Spanish with the Hebrew lyrics, while performing them live. This awakened Broza to the idea of recording a 40th anniversary version of the album, all in Spanish.
In October 2022, Broza traveled to Madrid, Spain, and cut the album in one take, over one day. The preparation took over a month – rehearsing long hours and establishing his voice in the Spanish language.