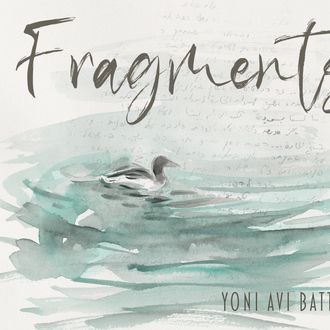 Yoni Avi Battat: Fragments
On September 2nd, 2022, multi-instrumentalist, singer and composer Yoni Avi Battat releases his debut album Fragments, a collection of original and traditional music surrounding his Iraqi-Jewish identity. With lyrics in Arabic, Hebrew, English, and Yiddish, the music utilizes Arabic modes and rhythms with an ensemble of traditional Arabic instruments to make sense of the artist's fragmented identity.
Battat continues a long legacy of Iraqi-Jewish musicians. Until 1950, almost all professional instrumentalists in Baghdad were Jewish—just one small part of the 2000-year history of Jews in Iraq. But despite this heritage, Yoni has struggled to claim his own place in the lineage of Iraqi musicians.
"Growing up in an American Jewish community dominated by European culture, I had very little access to the music, language, and traditions of my Iraqi-Jewish ancestors. As an adult, I've had to make a concerted effort to learn Arabic music and language in order to represent my Arab-Jewish ancestry as a musician. Studying these musical traditions has connected me deeply with my roots, but there are still so many parts of my family's experience about which I will never know. I can no longer ask my grandparents about their life in Baghdad or their departure from Iraq. I can't visit the land where my ancestors lived for thousands of years."
Yoni's debut album offers visibility and recognition for the many unseen Middle Eastern Jews in America, while making room for listeners of all backgrounds to take something from his message. Through this release, Yoni expands the possibilities of modern Jewish expression to be more inclusive, rich, and diverse.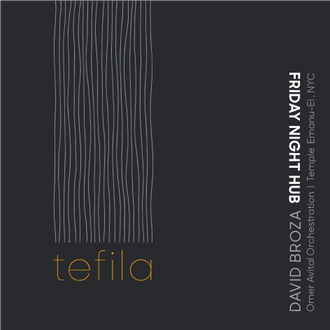 David Broza - Tefila
David Broza and Temple Emanu-El announce the release of TEFILA, a new album of music for the Shabbat service, blending time-honored, traditional prayer lyrics with new musical compositions by David Broza and orchestral arrangements by Omer Avital.  The album is being released on Broza Records, and will be distributed digitally worldwide by MNRK Music Group.
The reimagined monthly Shabbat celebration, FRIDAY NIGHT HUB at Temple Emanu-El in New York City, incorporates music from the TEFILA album and is geared to young professional Jewish adults between the ages of 21-39.
The music of TEFILA (translation: PRAYER in Hebrew) encompasses several genres from pop and jazz, to gospel, folk and classical.  The album features 22 musicians – including string and horn sections, plus the 25-piece Moran Choir in Israel, gospel singers from NYC, piano, and percussion; as well as David Broza on guitar and Omer Avital on bass – and creates a uniquely singular cascade of sound.  While reverent to the intentions of the prayers themselves, the cutting-edge compositions recreate and reimagine the experience of the typical Shabbat service, making it contemplative, but also ecstatic and wholly engaging. The TEFILA album positively soars with moving and memorable performances, as the prayers of Shabbat are set in an entirely new light, encouraging participation of congregants through song and dance.