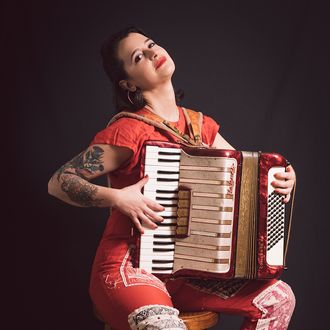 Pascuala Ilabaca "La Curiosidad" Tour (June-July)
Chilean composer, singer, accordionist and pianist Pascuala Ilabaca – one of the most versatile musicians in Chile's contemporary music scene - joins her band Fauna this summer for their 2022 La Curiosidad [The Curiosity] International Tour.
June 16 – Real Art Ways – Hartford, CT
June 17 – Town Hall Theater – Middlebury, VT
June 18 – Bombyx Center for Arts & Equity – Northampton, MA
June 19 – Bossa Bistro & Lounge – Washington, DC
June 21 – Sultan Room – Brooklyn, NY
June 22 – The Stationary Factory – Dalton, MA
June 24 – Hopkins Center for the Arts at Dartmouth – Hanover, NH
June 25 – Martyrs' – Chicago, IL
June 28 – Sinnissippi Gardens – Rockford, IL
June 30 – Vashon Center for the Arts – Vashon, WA
July 1 – Fremont Abbey – Seattle, WA
July 2 – Alberta Rose Theatre – Portland, OR
July 5 – Montreal Jazz Festival – Montreal, QC
July 7–9 – SunFest – London, ON
July 10 – Kultrun – Kitchener, ON
July 12 – Songs at Mirror Lake - Lake Placid, NY
Mames Babegenush "COVID Can't Keep Klezmer Down" Tour (July)
Returning to North America in July, Denmark's Mames Babegenush unleash a sonic crossroads where east unexpectedly meets…north!
The young Danish band's unique musical fusion marries their strong Scandinavian roots and elements of jazz with the vibrant dance music and klezmer traditions of eastern Europe. From the contemplative ambiance of Nordic snowscapes to the lively weddings of Romania, the music of Mames Babegenush exudes a sense of both poignant melancholy and irresistibly danceable exuberance.  
The COVID-19 pandemic led to the cancellation of two US tours in 2020-21, but venue reopenings in 2022 and excited arts presenters and audiophiles made coming back this summer an inevitability.
July 17 - Cody City Park Bandshell - Cody, WY
July 19 - Ravinia - Highland Park, IL
July 20 - DROM - New York City, NY
July 21 - Real Art Ways - Hartford, CT
July 22 - Earl Bales Park - North York, ON
July 23-24 - Hillside Festival - Guelph, ON
July 26 - The Middle East - Cambridge, MA
July 27 - Bossa Bistro and Lounge - Washington, DC
July 28 - CHIRP - Ridgefield, CT
July 29 - Next Stage Arts - Putney, VT
July 30 - Bombyx Center for Arts & Equity – Northampton, MA
July 31 - The Colony - Woodstock, NY  
This tour sees the band bringing with them songs from their sixth studio album which was written and recorded during the pandemic and is due out later this year.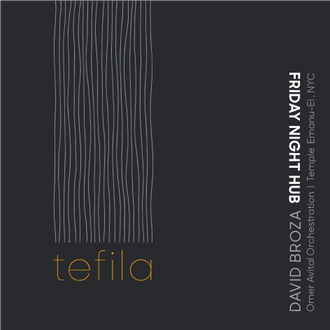 David Broza - Tefila
David Broza and Temple Emanu-El announce the release of TEFILA, a new album of music for the Shabbat service, blending time-honored, traditional prayer lyrics with new musical compositions by David Broza and orchestral arrangements by Omer Avital.  The album is being released on Broza Records, and will be distributed digitally worldwide by MNRK Music Group.
The reimagined monthly Shabbat celebration, FRIDAY NIGHT HUB at Temple Emanu-El in New York City, incorporates music from the TEFILA album and is geared to young professional Jewish adults between the ages of 21-39.
The music of TEFILA (translation: PRAYER in Hebrew) encompasses several genres from pop and jazz, to gospel, folk and classical.  The album features 22 musicians – including string and horn sections, plus the 25-piece Moran Choir in Israel, gospel singers from NYC, piano, and percussion; as well as David Broza on guitar and Omer Avital on bass – and creates a uniquely singular cascade of sound.  While reverent to the intentions of the prayers themselves, the cutting-edge compositions recreate and reimagine the experience of the typical Shabbat service, making it contemplative, but also ecstatic and wholly engaging. The TEFILA album positively soars with moving and memorable performances, as the prayers of Shabbat are set in an entirely new light, encouraging participation of congregants through song and dance.