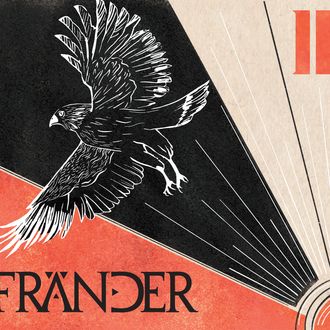 FRÄNDER
FRÄNDER II
Brothers Gabbi and Daniel Dluzewski and sister Natasja Dluzewska grew up in the village of Håga, one of Scandinavia's great Viking strongholds during the Bronze Age. The area, near the city of Uppsala, was once a rich archeological trove of gold artifacts from the 900 BC tomb of King Björn before looters robbed it of that distinction, but treasures of a different sort still remain: the enduring riches of Nordic oral and musical traditions. From those deep roots, from the musicians' various intensive musicological studies, and from their shared passion for popular music, the inspiration for a new modern acoustic music began to take shape, and in 2015 FRÄNDER was born.

The group's second album, FRÄNDER II, is like nothing else heard on the folk or world music scene, pushing stylistic boundaries and proving FRÄNDER to be among today's most trendsetting Scandinavian bands. They make a personal imprint on the nordic sound of folk music and their music is hauntingly evocative, with subtle echoes of Led Zeppelin, Jethro Tull and even the Beatles blending seamlessly with sounds from both Swedish and Estonian traditional music. While their compositions are original, their interpretation of traditional music in a rock idiom calls to mind the brilliant work of Fairport Convention vis a vis English folk music. Sometimes dubbed "heavy folk," despite the fact that they're playing acoustic instruments, FRÄNDER's music rocks!

FRÄNDER comment: "Listening to our debut album you can hear that everything's already there - our personal expression, the intricate arrangements and the beautiful melodies. With FRÄNDER II we took it further, not caring so much of labeling the music, but with the ambition to challenge what's considered folk music and placing us on the outskirts of the tradition. We're still playing acoustic instruments, but heavier, with a modern sound and influences far beyond the folk scene. This is how we heard it in our heads all along!"
The three siblings formed FRÄNDER together with Estonian Säde Tatar, later to become Gabbi's wife. They shared the idea of a musical haven where they could create music never heard before and develop both individually and as a group. One summer's evening when the thunder was rumbling and the storm was howling through the valley of Håga, Säde played and sang traditional spells of her Estonian homeland. Everybody around her got enchanted and felt like it was the ancestors and the rock 'n' roll gods making a common cause, showing FRÄNDER the way. And in that moment they knew they had to create a bridge between the sacred lands of Håga and Estonia.

With Gabbi on Swedish mandola, Daniel on double bass, Natasja on violin and lead vocals, Säde on flute, and Björn joining on drums and percussion, FRÄNDER's music is commanding and intensely spirited but at the same time nuanced and mystical, its melodies and rhythms strongly evoking the magical beauty of their northern woodlands and their deep cultural roots. And – it really rocks!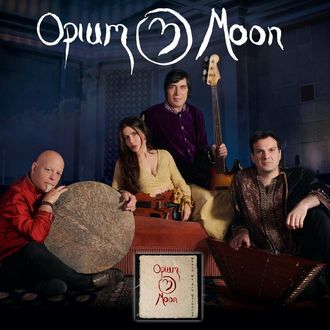 Opium Moon
where we are gathered
Opium Moon won a Grammy in 2019 for their debut album, Opium Moon, and were again honored with a nomination for their sophomore release, Night + Day (2021). The four powerhouse players hail from Iran, Israel, Canada and the U.S., but their paths merged in Los Angeles, where they discovered the unique chemistry that drives their distinctive, sensuous sound.

Deep rhythmic grooves, soaring violin, shimmering santoor (Persian hammered dulcimer), and angelic vocals abound in the multi-hued, cinematic soundscapes of this third album. The quartet's otherworldly, ancient-modern alchemy is resplendent in their new work -- at once hypnotic, reverent, innovative, and sensual. The band like to say that "it's the best music for meditation, or for making out"-- and critics have agreed, variously describing the band's music as "carnal," "transcendent," "haunting," and "rapturous." Mix magazine said, "It will awaken every sultry, seductive, sexy, sensual, spiritual and steamy molecule of your being."

In a departure from their previous releases, the band invited several guest artists to appear on Where We Are Gathered, delivering a song sequence of interestingly varied textures and tone. Beloved devotional singer Benjy Wertheimer contributes deeply resonant vocals on "Metta Prayer" and "Metta Prayer Invocation," intoning the words of the Buddhist loving-kindness mantra in the liturgical Pali language of India -- with the chanted prayer set like a gem amid the whirling dazzle of Opium Moon's virtuosic instrumentation. More than two millennia ago the Buddha, Siddhartha Gautama, encouraged his followers to chant this timeless mantra; today, yoga superstar Shiva Rea selected "Metta Prayer" as the featured music in her new guided meditation.

South Africa's two-time Grammy winner Wouter Kellerman embellishes the lilting Of Kiss and Wing with the delicate filigrees of his flutes. Ramin Sakurai of Supreme Beings of Leisure co-wrote "Love and Understanding," contributed programming grooves on several songs, and co-produced the album,along with Lili Haydn and Itai Disraeli.

The popular Iranian singer Hengameh joins the band on the rousing, anthemic closing track, "Woman, Life, Freedom" -- alternating the words of the Iranian freedom movement's protest chant in Farsi and English as the musicians raise their voices and their fists in moral outrage and support of women's rights and freedom following the tragic death of Mahsa Amini at the hands of Iranian authorities last year.

Itai Disraeli says, "This album is the sound of the human spirit singing freely through all of us." Lili Haydn adds, "It speaks to our time, in which people feel more and more disconnected through the bombardment of social media. AI, pandemic, war, and suffering. Where we are gathered, there is hope. Where we are gathered, there can be love and understanding, evolution of ideas, and the willingness -- indeed, the mandate -- to listen to each other and make beauty in the face of darkness."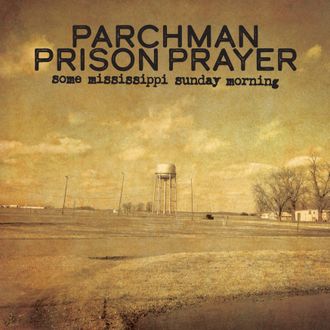 Parchman Prison Prayer
Some Mississippi Sunday Morning
In February 2023, Grammy-winning music producer, Ian Brennan traveled to Mississippi to record with the prisoners of the notorious Parchman Prison.
The institution has a rich musical history with Son House, Bukka White, Mose Allison and Elvis Presley's father, Vernon Presley, having been former residents. The bureaucratic process for his visit took over three years. Granted approval a little more than a week before, Brennan caught a red eye flight to be there on a Sunday morning for the few hours he was allowed to record.
The chaplains of the prison convened a special service of various singers from across the dozen or so different services that take place every Sunday at Parchman. Somewhat bashful at first, the men volunteered one-by-one and sang a capella songs. Inspired by one another, those that had initially refused or were reluctant to sing, eventually stepped-up to the microphone and many took second turns as the morning unfolded. The entire meeting climaxed with an unplanned, full-band free for all as the musicians traded off the chapel's instruments on-the-fly.
Mississippi's oldest penitentiary, Parchman was founded in 1901 and has one of the highest prisoner mortality rates in the nation as well as experiencing ongoing riots. Parchman is located just a hop and a skip to the north of Money, Mississippi where a young black man Emmett Till was infamously tortured and lynched in 1955. Also, just around the corner is the Delta Blues Museum in Clarksdale near where Muddy Waters was raised, where Sam Cooke and Ike Turner were born, where Bessie Smith died, and Robert Johnson supposedly sold his soul to the devil at the crossroads (which had historically been an intersection of two major First Nation routes).
Due to restrictions on video and photos, the only artifact from this meeting are the sounds— making the voices all the more ethereal and ghostly.
A veil of sadness seemed to shroud. The singers' voices softened and textured by the inescapable regret that their environment confronts them with.
Most songs were covers of Gospel standards, but delivered so imbued with subtext that they were transformed almost unrecognizably from the source material.
These were voices unchained, if only for those few hours. Expressing a vocal breadth of freedom otherwise denied and restrained.
Recorded 100% live without overdubs at Parchman maximum security prison's Sunday morning service.